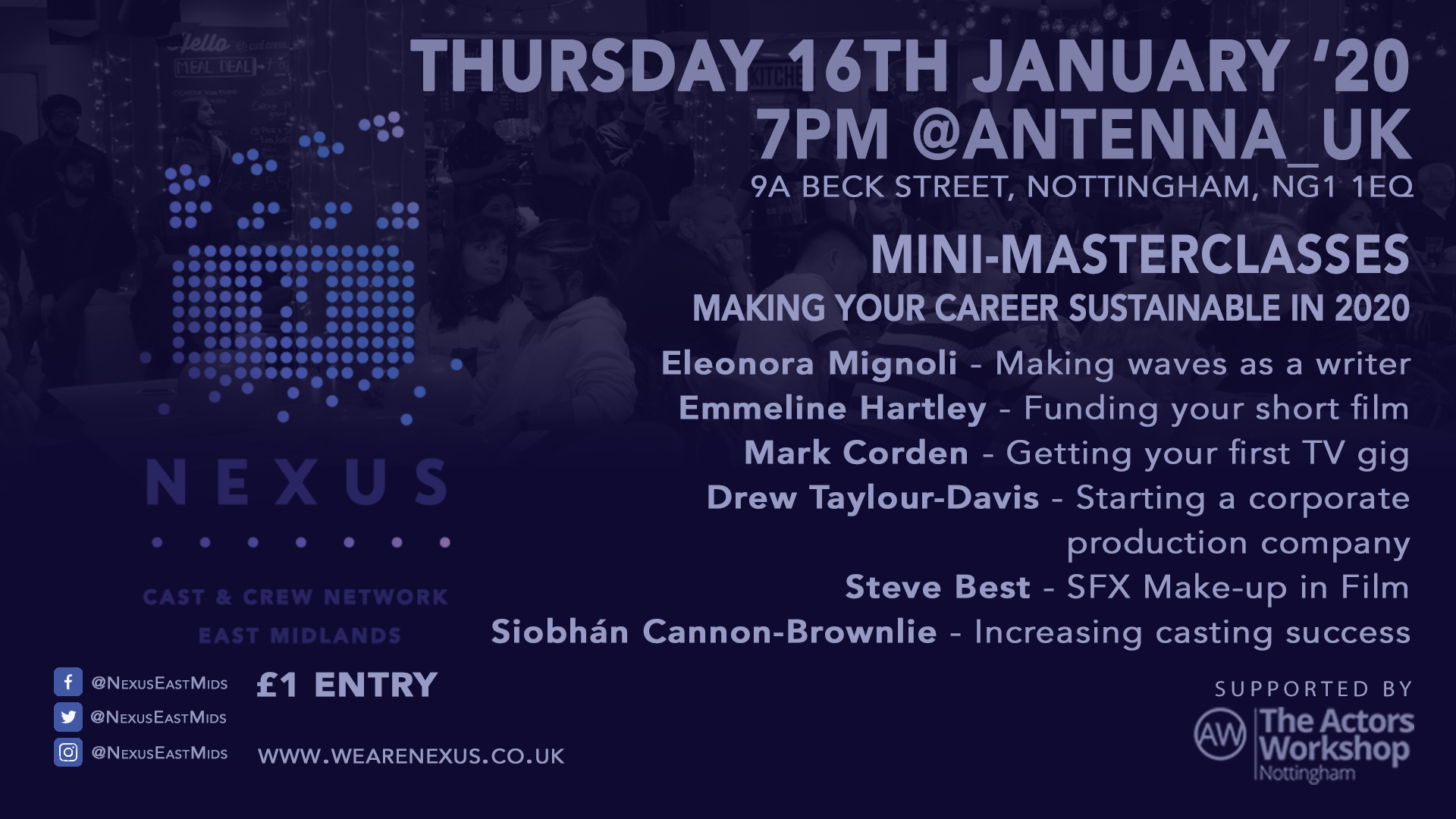 Event Details
Start Date

01/16/2020

Start Time

07:00 PM

Location

9A Beck Street, Nottingham, NG1 1EQ
Happy New Year and welcome back to NEXUS' networking nights. Starting the year off, we've got a range of guest speakers coming in to discuss their different career paths and how you can get started in the film and television industry.
Whether you're more art inclined and curious about Art and Make-Up, a runner trying to climb the ladder into permanent film and TV work, or a writer/producer trying to fund your next project, we've got bite-size chunks of wisdom being dropped by those already doing it.
So if your new years resolution this year is to get your career started, or even to keep it moving, come down to NEXUS on the 16th of January, 7pm, at Antenna Nottingham.
Delivering the masterclasses will be:
Eleonora Mignoli – Making waves as a writer
Eleonora is a writer, reader, and script consultant having several of her scripts produced and landing high accolades in screenwriting competitions. She is currently developing a feature film with CE50, Manchester-based production company Old Hall Films and will be talking about how you can get yourself out there as a writer.
Emmeline Hartley – Funding your short film
Emmeline is an Actor and Producer having stared in and produced a variety of films. Last year she raised a significant amount for her short film Keep Breathing with help from the BFI, Derby University, Derby Council, and a variety of charities. She'll explain how you can combine funds to reach the budget you need for your next short film.
Mark Corden – Getting your first TV gig
Mark Corden has recently worked on Doctor Who, Casualty, Holby City and feature film Madness in the Method as 2nd AD and has consistently made this his career since the early 2000's. He'll explain how to get your foot in the door, and how to walk into your career in TV and Film.
Drew Taylour-Davis – Starting a corporate production company
Drew Taylour-Davis runs Derby based, award winning company Future Proof Films. They've recently worked with some of the biggest brands such as Zommos, UBS and Sainsbury's. With video leading the way with online marketing he'll talk about his experiences starting a corporate video production company.
Steve Best – SFX Make-up in Film
Steve has run SFX company FakeUp for the past 5 years providing training, workshops, and services in professional level special effects make-up. Having worked on a variety of productions in the past 20 years Steve will be giving his top tips for special effects no matter the budget.
Siobhán Cannon-Brownlie – Getting paid acting work
Siobhan trained as an actor at the BAFTA award-winning Television Workshop in Nottingham and went on to direct productions with the company. Currently she's a freelance theatre director, with plenty of theatre productions under her belt including Woman and Scarecrow (Brewery Theatre at Tobacco Factory), Mrs Green: The Musical (Nottingham Playhouse and Leicester Curve), and The Tempest (Hopetoun Estate in the Firth of Forth, Fingask Estate Dundee, Belladrum Estate in the Highlands) to name a few; she'll be using her experiences to help actors find more success.
We'll see you there!