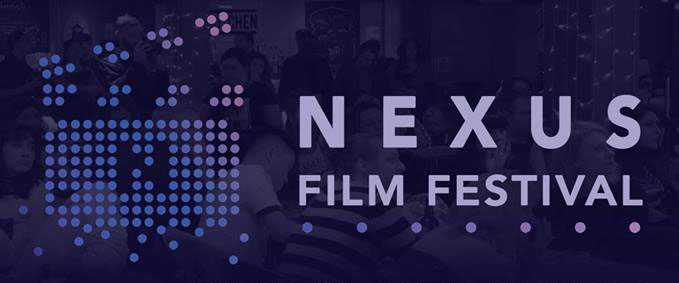 Event Details
Start Date

05/12/2019

Start Time

11:00 AM

End Date

05/12/2019

End Time

08:30 PM

Location

Metronome, Marco Island, Huntingdon St, Nottingham NG1 1AP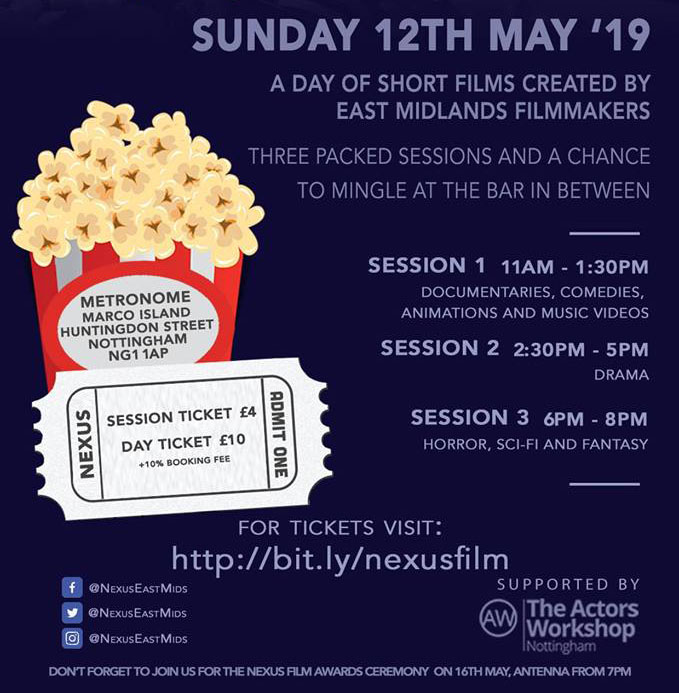 A day of short films created by East Midlands Filmmakers!
We will be hosting the first Nexus Film Festival & Awards Ceremony so we can celebrate the amazing talent in our region.
The one-day festival will take place on Sunday 12th May 2019 with 54 short films to be screened at Metronome, followed by an Awards Ceremony on our usual networking evening on Thursday 16th May at Antenna, where there are up to 25 Awards up for grabs!
Three packed sessions and plenty of time to mingle at the bar.
Session 1 11am – 1:30pm
Documentaries, Comedies, Animations and Music Videos
A Short Message
Agency
Balti's in Birmingham
Bee-Loved
Big Bad Wolf
Feels So Good
Ghosts: A Mocumentary
Haggard Cat – Goldberg
Hijab
I'll be Here After the Factory is Gone
Jericho
Jorday – Dive [Music Video]
Lily Gulch
Lovers
Millie
Morecambe & Wise (One Shot Remake)
No Guesses Found
Rhythm of my Drum
See Our Voices | Sign Language Matters
The Last Chapter
The Penguin Who Couldn't Swim
Virtual Brutality
Who moved my Penguin?
Yogi Griddles: Survivor – Part 1
Session 2 2:30pm – 5pm
Drama
A Near Run Thing. Pitch cut.
C0MB4T_W4RR10R
Crosses
Enemies
Husk
Little Boxes
Little Mouse
Passing Time
Providence 2018
Rosemary
Runaways
The Colour Brown
The Nail That Sticks Out
Thought
Wash
Wash Club
Session 3 6pm – 8:30pm
Horror, Thriller, Sci-fi and Fantasy
Amechania
Archway 0173
Aurora
Back in My Day
Best Friends Forever
Eve
Make Do Or Mend
My Friend Frank
Night Tide
PREY
Selfie
Songbird
The Poacher
Tunnel
Session Ticket £4
Day Ticket £10
(+10% Booking Fee)
For tickets visit:
https://metronome.uk.com/events/nexus-film-festival/
Please spread the word and invite your fellow creatives to this event.
See you all there
Nexus Team
x
Supported by The Actors Workshop Nottingham.